"Every dart shot at your ex goes through your child's heart."
Collaborative Law is a form of Alternative Dispute Resolution. It offers parties the chance to resolve critical issues outside a courtroom, usually at less expense than proceeding to trial. The entire collaborative process occurs outside of the court system, so no court documents are prepared, filed, or seen by the public or by a judge until the divorce is finalized.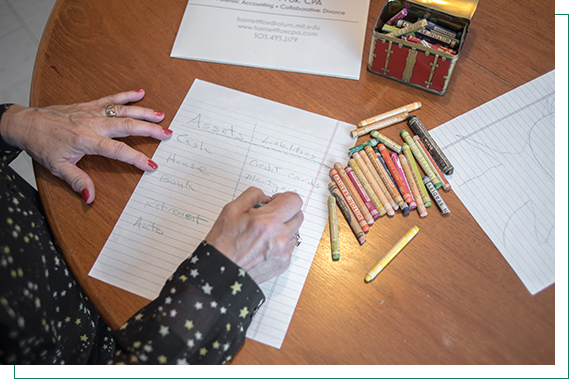 Using the collaborative process, the couple, their attorneys, a neutral financial professional, and a facilitator comprise a team to work toward the best solution for the family so that all family members thrive. The dialogue during team meetings helps to establish healthy communication patterns to assist the family post-divorce.
As a female collaborative divorce accountant, Harriett provides the following, as needed in each unique situation:
organize financial documents
prepare divorce financial affidavits
calculate marital and non-marital assets and liabilities
calculate values for family businesses, pension plans, stock options
prepare schedules for equitable distribution of  the marital estate
determine each party's income
The stakes are high when a family business, a professional practice or a senior member of a corporation is involved. Having a financial expert on the team who has a thorough understanding of business and finances greatly enhances the collaborative divorce process.
A Miami collaborative divorce financial professional and Certified Public Accountant, Harriett Fox is devoted to expanding the use of the Collaborative Divorce Process. This alternative to litigation helps families to move forward with their lives, decide what is an equitable division of assets for THEM, and to establish effective co-parenting relationships. Parents who use the Collaborative Divorce Process are likely to fare better emotionally and financially than if they had chosen another path.
Harriett offers forensic accounting and litigation support services for family matters, including Miami collaborative divorce cases.