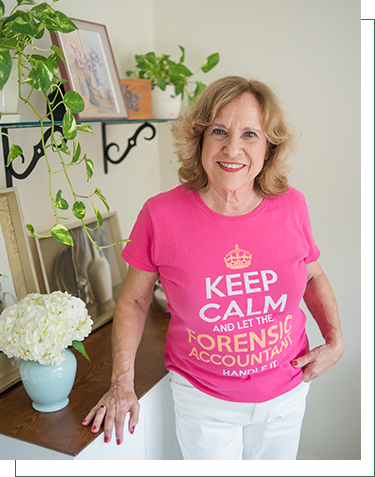 Providing Financial Expertise in Divorce
PROFESSIONAL ACHIEVEMENTS
Appointed to Florida Bar Grievance Committee – Eleventh Judicial Circuit
Certified Public Accountant, Florida – May 1997
Awarded Certification of Merit for achieving seventh highest score in the State of Florida on May 1997 Uniform Certified Public Accounting Examination.
Massachusetts Institute of Technology, Sloan School of Management, Master's Degree in Finance and Corporate Planning, 1975
Florida International University, Master of Accounting, 1998
Simmons College, Bachelor of Science in Mathematics, 1972
PUBLICATIONS AND LECTURES
Calculating Present and Future Value in Divorce, Family Lawyer Magazine, Fall/Winter 2016.
Co-author, Miami's Women-Owned Businesses, an historical presentation and analysis of women's entrepreneurship in Miami.
Speaker at Florida International University, Small Business Development Center and SCORE.
Profiled in South Florida Business Journal.
Student editor of the Sloan Management Review.
Expert Financial Support Before, During, and After Divorce
With her experience as a CPA and forensic accountant, Harriett is invaluable to divorce attorneys, and divorcing people who own a business, have a professional practice, or are executives of a company. She applies her knowledge of business and financial matters to evaluate assets for equitable division, including
family businesses
pension plans
stock options
company shares
Harriett provides financial analysis of budgets, cash flow, and financial forecasting that are invaluable throughout and after a divorce. With her experience as a CPA and forensic accountant, her expertise is trusted by:
Business owners and their spouses
Executives and their spouses
Professionals and their spouses
Divorce attorneys
She applies her knowledge of business, the divorce process, and financial matters to assist her clients and the clients of divorce attorneys. Harriett helps ensure that valuable assets such as the family business, pension plans, stock options, and company shares are properly valued and divided in high-net-worth divorce cases.
If you are a family lawyer, you understand that divorce financial matters can be extremely complicated. Harriett offers valuable support to family lawyers throughout Florida and can act as an expert witness for your divorce cases. As a collaborative financial practitioner, Harriett provides her services to help families settle divorces out of court.
Commercial and Civil Litigation Cases
Harriett Fox specializes in complex financial analysis related to businesses of all sizes. She holds an MBA from the Sloan School of Management at MIT and a second Masters Degree in Accounting. With experience as a Fortune 500 executive, CFO for several family-owned businesses, and herself a small business owner, Harriett brings the highest level of integrity and expertise to her clients and their legal team. She has served as an expert witness in numerous cases, and has experience facilitating mediated negotiations in civil and commercial disputes.
Harriett I. Fox, P.A., Certified Public Accountant, Forensic Accountant
Cherry Bekaert & Holland LLP, formerly Berenfeld Spritzer Shechter & Sheer, Litigation Support Services
Destiny Yachts, Chief Financial Officer
Marcum, LLP, formerly Rachlin Cohen & Holtz, Litigation Support Services
Ryder System, Inc., Department Director
Deloitte Touche Tohmatsu Limited, formerly Touche Ross & Co., Boston, Massachusetts, Consultant